Through bi-weekly meetings, workshops, curated artist conversations and master classes, B·O·N·D rigorously supports the director cohort with rehearsal spaces (in-person in Beijing), stipend, an administrative and marketing team and a hybrid, open-to-all community engagement plan. After 6 months of incubation, 8 invited directors independently create eight different monodrama shows. All the pieces will be presented in the festival from June 19 to July 2, 2021.




"How Much is the Belt?"
Language: Chinese with English subtitle
Showtime: June 19, 2021
If two people cannot understand each other, can we still call their conversation a dialog? In How Much is the Belt, a business owner and an incomprehensible customer engage in such a "dialog", where the only thing they understand is their own words. After the shopkeeper attempts to understand the words over and over again but provokes more misunderstandings, it eventually leads to an unexpected denouement.
A Broken Heart Found in a Septic Tank
Language: Chinese with English subtitle
A piece of heart tissue of a woman killed by her husband, a dead baby miscarried by an underage girl, a clump of hair of a woman who was abused...... Based on the facts of brutal domestic murder in Hangzhou in 2020, A Broken Heart Found in Septic Tank is the raging voice of the forgotten names, mistreated souls, and the blood-soaked moments of womenhood.
The Spirit Play
Language: English with Chinese subtitle
Showtime: June 26, 2021
A Kuo Pao Kun classic, The Spirits Play is a haunting, anti-war work that features five unsettled spirits who share stories about their experiences in the war and reasons for their deaths.This adaptation amplifies the chaotic personal energy of the original play: no one is beyond his or her time, but the shape of the times is determined by each individual.

Director: Wei Gao
Looking for Wang Xianke
Language: Chinese with English subtitle
Showtime: June 27, 2021

After 7 years of married life, an accident rerouted a Tang Dynasty lady to a whole new journey of self-awakening and growth into society… Looking for Wang Xian Ke is a stage adaptation/reimagination of Looking for Wushuang, a novel by one of the most acclaimed writers of twentieth-century China, Wang Xiaobo.
The Emperor and the Assassin
Language: Chinese with English closed caption
Live-streaming: June 28, 2021
The play takes the historical allusion of Gao Jianli's assassination of Emperor Qin as its creative material and turning it into a carefully constructed murder mystery game--where players in a live meeting room embody the characters and discover their journey on the backdrop of ancient China Qin dynasty.


Director: Mengxue Liu
The Coffin is Too Big for the Hole

Language: Chinese with English subtitle
Showtime: June 29, 2021
A funeral turned into chaos, this black comedy explores people's choices and their consequences. When the coffin is too big for the hole, how do you pivot death somewhere else?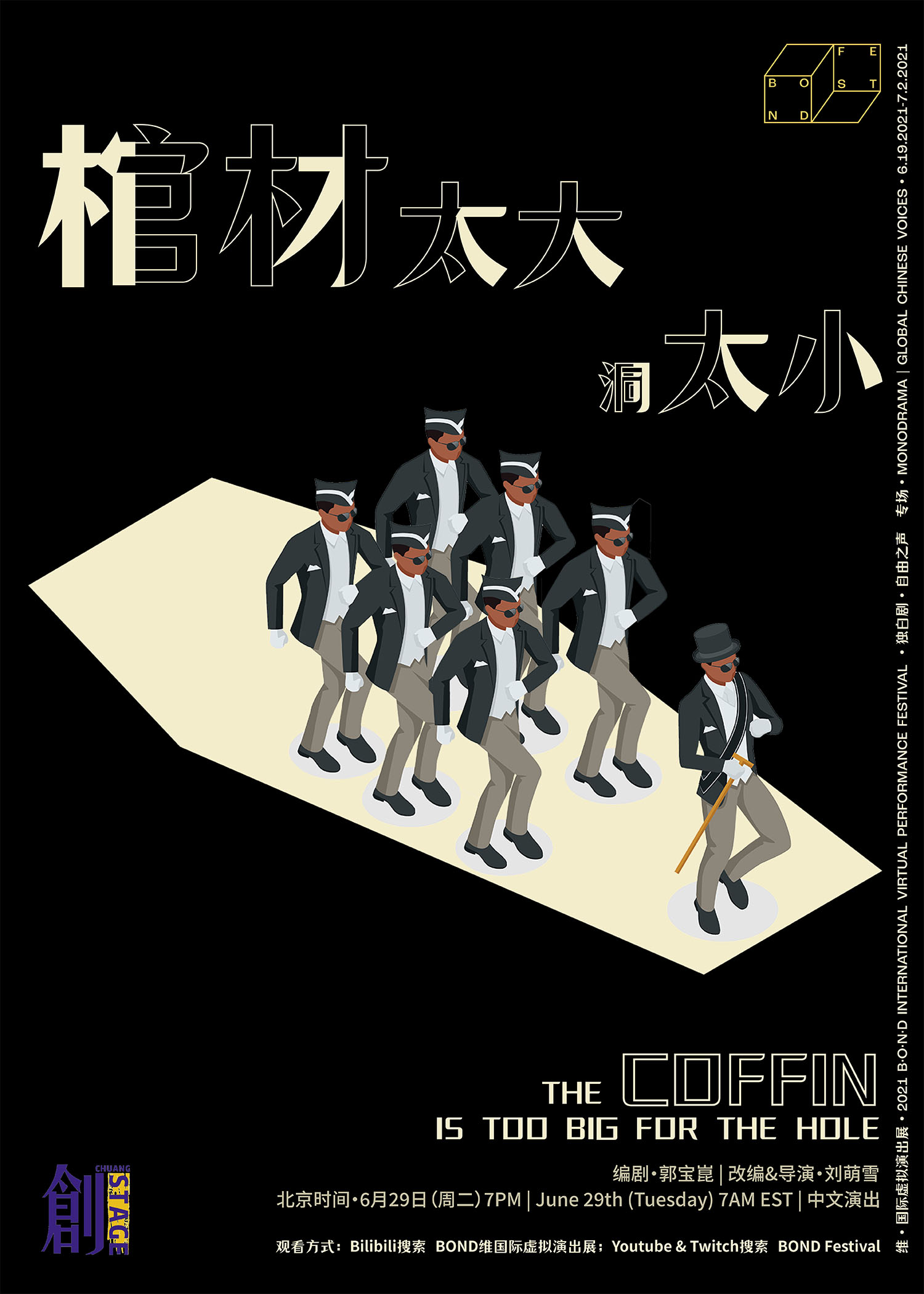 Watching
Language: Chinese with English subtitle
Showtime: June 30, 2021
Night, alone, stuck in the bathroom, Ting is running against time in finding an exit. Nine hours later, a man appears to her salvage, yet no rescue is ever so plain. Through a duet urban tale, Watching explores the male gaze and voyeurism in a tech-savvy world.

Director: Tianding He
TED x Zoo
Language: English with Chinese subtitle
Showtime: July 1, 2021
TED x Zoo is a devised theatre piece about immigrants and minority groups, telling a story based on individual experiences through animals' monologues. Different animals in the play symbolize various groups based on their distinctive characteristics. The work is based on three components: the late Singaporean Chinese playwright Kuo Pao Kun's The Eagle and the Cat, a new play, What Does the Fish say? by June Wenjun Zhu, and a two-month devising section with a group of Asian directors living in different countries around the world.